Leadership Horizons, the power of being outdoors
What do you get when you add a group of open-minded coaches, expert facilitators, the lake district and about 6 hours of time?
The answer is the feeling of being part of a something special, a lifting of soul and clarity of direction!
But first a bit of background:
I may have started my coaching journey many years ago, but in 2017 I met the truly outstanding Dr Paul Simmons as a new head in Oldham. The LA had teamed up with him (www.independentcoaching.org) to produce a program of support for new heads, and I embraced the coaching part of this wholeheartedly, finally a coaching method secure in theory, ethics and with a strong structure to work within. I then moved to the part two, whilst also sending my leadership team on part one, used the structure in my performance management meetings with staff and our senior leadership team meetings and progressed to part three.
When I left my headship in 2020, I was in contact with Paul as I considered the next stage of my journey. With sound advice and his support I ensured I completed part three, joined the executive coaching, added accredited supervision to my portfolio (my absolute passion for wellbeing) and embarked on my current chapter as Purplemoon.
Leadership Horizons Pilot
Paul, and his wife Marian, had been considering a day of coaching for coaches embedded in nature for a while. Nature and being outside as positive wellbeing factors have been a big identified as a feature of the pandemic Lockdowns and so when he approached me to ask if I would be interested in participating in a pilot day about coaching 'in-situ' in the lake district I jumped at the chance. As did nine others!
We gathered (socially distanced!) between 9-9:30 in a lovely room that was part of the University of Cumbria. We discussed what had brought us there, the theory and practice behind leadership coaching, and thought about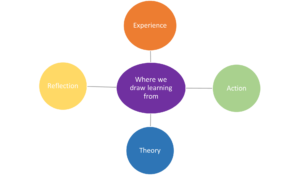 we then set off into the countryside, four of us opting for a shorter walk and then a sit in pleasant surrounds, and six opting for a longer walk and talk. (yes, I was in the walk and sit group!) we paired up, we coached, we came together for a packed lunch and chat, we changed locations and coached again in our pairs. We then met up as a whole group again to reflect on the day-our individual thoughts and learning, and our thoughts and learning as a group. We then drifted back home around 3pm, after all agreeing that it had been a remarkable day.
Remarkable Day Reflections
Whenever I have attended coaching sessions facilitated by Paul I have felt invigorated, have got clarity of next steps and also learnt more about being a coach. This day was no exception, however this day held something more, something deeper and we all felt it.
One phrase that has stayed with me is the difference between 'feeling knowledge' and the 'knowing knowledge', I know that being in nature is powerful and positive, but after this day I also truly felt it enhance and deepen the coaching experience. There was synergy between the heart and the head in a different way at the end of the sessions. What brought this about?
Being outside brought different energy, it was more tranquil, less hasty or pressured- I also enjoyed not having to be in constant eye contact as I sat next to my coach rather than opposite across a desk/table. I fiddled with grass and flowers around me (as did she) and did not feel self-conscious about fiddling. Pauses were natural and mindful and invited further thoughts and discussion.
I love working in metaphor and using the vista around me to describe my reality and my ideal, and work out how to get to that horizon, really helped both me and my coaching partner to depersonalise the issue/thoughts, describe them with rich language and give greater weight to our thinking. Whilst also being an aide memoir for the coach so more cognitive space could be given to support rather than remembering or note taking.
Overall it felt very embryonic but also retained the structures and methods we all were so familiar with. Nothing was forced and for me there was less pressure as I felt unconstrained by time and the physical presence of work/workplace. I found the walking part as the nice bit of small talk, the shedding off of my 'to-do' list or my anxieties, frustrations or woes as I enjoyed the physicality of walking uphill and the taking in of the sights and sounds. When we sat, we paused and truly let go as we established our anchor for coaching in the surroundings, and then we delved deeper into the near, middle and far horizons.
Would I do it again? Absolutely! Am I looking into how I can incorporate this into my practise as a coach and supervision, oh yes!
Would it have been different if it had rained? Maybe, although we all gelt that some light drizzle wouldn't have stopped us, a storm would have given us a different vista and energy, but there was always the safety of the building!